SHIMMER WOMEN'S WRESTLING UPDATES
By
Mike Johnson
on 5/18/2012 1:58 PM
SHIMMER - WOMEN ATHLETES News for May 18, 2012

Courtesy of the SHIMMER Yahoo Group
http://groups.yahoo.com/group/shimmerwrestling/

Follow SHIMMER on Twitter
http://www.twitter.com/shimmerwomen

Headlines:
- Tickets on sale this Sunday for SHIMMER 49-52!
- Free video of Knight Dynasty's self destruction!
- Volume 44 DVD now shipping!


THIS SUNDAY - SHIMMER TICKETS ON SALE!
--------------------------------------------------

Front row tickets for the next SHIMMER - WOMEN ATHLETES events will go on sale at http://www.shimmerwrestling.com/ this Sunday, May 20th, at 6pm Central time. Front row seating typically sells out very quickly once the tickets go on sale (sometimes within a matter of hours), so be sure to pick them up on Sunday night if you are interested in front row seating for the events. Instructions to purchase front row tickets will be posted on the web site at that time.

SHIMMER returns to the Berwyn Eagles Club (6309 26th Street) in Berwyn, IL on Saturday & Sunday, October 27th & 28th, 2012. Volumes 49-52 of the SHIMMER series will be filmed during the course of that weekend. Bell time on Saturday, October 27th is 2pm. Bell time on Sunday, October 28th is 1pm. The events are suitable for all ages. We've announced the dates this far in advance to give everyone ample time to plan ahead!

Front row seating will be available at a cost of $70 per full day of taping (two full length DVDs worth of live matches), while general admission seating will be available at a cost of $30 per day.

Make your plans now to be a part of the weekend of SHIMMER tapings which will include the milestone SHIMMER 50 event. Mark your calendars, and join us live!

Discuss the SHIMMER 49-52 tapings in the following thread at The SHIMMER Forum...

http://tinyurl.com/7x9xaqz



THE END OF THE KNIGHT DYNASTY
--------------------------------------------------

We've released a free video on YouTube featuring the implosion of The Knight Dynasty from SHIMMER Volume 43. Check out the fight between Sweet Saraya and Britani Knight at the link below, which was just a prelude to their No Disqualification war against one another on Volume 44.

http://tinyurl.com/7wdztwj



VOLUME 44 DVD NOW SHIPPING WORLDWIDE!
--------------------------------------------------

Up through Volume 44 of the SHIMMER DVD series is now available for immediate worldwide shipping! Below is a description of each of the newest releases in the SHIMMER series, along with a link to place your order online via PayPal. If you would like to purchase DVDs from SHIMMER using a money order, please E-mail shimmernews@yahoo.com for mail order instructions.





SHIMMER- WOMEN ATHLETES Vol. 44 (DVD)

Description:
1. Davina Rose vs. Kellie Skater
2. Veda Scott vs. Taylor Made
3. Kalamity vs. Tomoka Nakagawa
4. Ashley Lane & Mia Yim vs. Nevaeh & Sassy Stephie
5. Serena Deeb vs. Yumi Ohka
6. MsChif & Christina Von Eerie & Allison Danger & Leva Bates vs. Melanie Cruise & Mena Libra & Bonesaw & She Nay Nay
7. Jessie McKay vs. Hiroyo Matsumoto
8. Courtney Rush vs. Sara Del Rey
9. Athena vs. Mercedes Martinez
10. LuFisto vs. Kana
11. No Disqualification: Britani Knight vs. Saraya Knight
12. SHIMMER Tag Team Title Match: Ayumi Kurihara & Ayako Hamada vs. Portia Perez & Nicole Matthews
13. SHIMMER Title Match: Madison Eagles vs. Cheerleader Melissa

Running Time: 3 hours, 27 minutes

Price: $15.00

Order at http://shimmerwrestling.blogspot.com/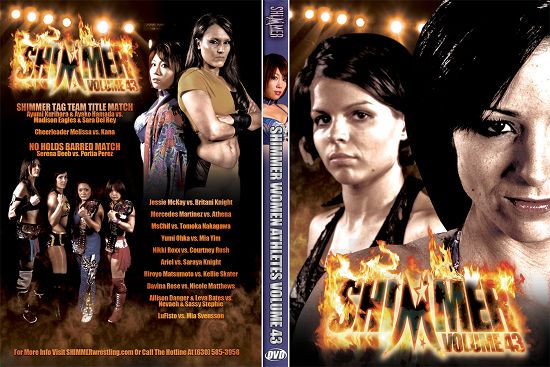 SHIMMER- WOMEN ATHLETES Vol. 43 (DVD)

Description:
1. LuFisto vs. Mia Svensson
2. Allison Danger & Leva Bates vs. Nevaeh & Sassy Stephie
3. Davina Rose vs. Nicole Matthews
4. Hiroyo Matsumoto vs. Kellie Skater
5. Ariel vs. Saraya Knight
6. Nikki Roxx vs. Courtney Rush
7. Yumi Ohka vs. Mia Yim
8. MsChif vs. Tomoka Nakagawa
9. Mercedes Martinez vs. Athena
10. Jessie McKay vs. Britani Knight
11. No Holds Barred Match: Serena Deeb vs. Portia Perez
12. Cheerleader Melissa vs. Kana
13. SHIMMER Tag Team Title Match: Ayumi Kurihara & Ayako Hamada vs. Madison Eagles & Sara Del Rey

Running Time: 3 hours, 16 minutes

Price: $15.00

Order at http://shimmerwrestling.blogspot.com/





SHIMMER- WOMEN ATHLETES Vol. 42 (DVD)

Description:
1. Mercedes Martinez vs. Leva Bates
2. Hailey Hatred & Kalamity vs. Melanie Cruise & Mena Libra
3. Four Corner Surivial: MsChif vs. Kellie Skater vs. LuFisto vs. Tomoka Nakagawa
4. Courtney Rush vs. Yumi Ohka
5. Portia Perez vs. Davina Rose
6. Nikki Roxx & Ariel vs. Nevaeh & Sassy Stephie
7. Cheerleader Melissa vs. Christina Von Eerie
8. Triple Threat Match: Jessie McKay vs. Athena vs. Mia Yim
9. Serena Deeb vs. Nicole Matthews
10. SHIMMER Tag Team Title Match: Ayumi Kurihara & Ayako Hamada vs. Saraya Knight & Britani Knight
11. Kana vs. Sara Del Rey
12. SHIMMER Title Match: Madison Eagles vs. Hiroyo Matsumoto

Running Time: 3 hours, 7 minutes

Price: $15.00

Order at http://shimmerwrestling.blogspot.com/





SHIMMER- WOMEN ATHLETES Vol. 41 (DVD)

Description:
1. Nikki Roxx vs. Kellie Skater
2. Mercedes Martinez vs. Davina Rose
3. Hailey Hatred vs. Kalamity
4. Yumi Ohka vs. Sara Del Rey
5. Mia Yim vs. Kana
6. SHIMMER Tag Team Title Match: Daizee Haze & Tomoka Nakagawa vs. Ayumi Kurihara & Ayako Hamada
7. Ashley Lane vs. Nevaeh
8. Cheerleader Melissa vs. Britani Knight
9. Jessie McKay vs. Portia Perez
10. British Rounds Match: Saraya Knight vs. Allison Danger
11. Hiroyo Matsumoto vs. Nicole Matthews
12. SHIMMER Title Match: Madison Eagles vs. Serena Deeb

Running Time: 3 hours, 20 minutes

Price: $15.00

Order at http://shimmerwrestling.blogspot.com/



----------------------------------------------
Call the SHIMMER Hotline
630-585-3958
----------------------------------------------
View SHIMMER matches on demand
http://www.clickwrestle.com/
----------------------------------------------
The Underground Alternative
http://www.deathgripclothing.com/
----------------------------------------------
Follow SHIMMER on Twitter
http://www.twitter.com/shimmerwomen
----------------------------------------------
Visit the SHIMMER web site
http://www.shimmerwrestling.com/
----------------------------------------------

Read more:http://shimmerwomen.proboards.com/index.cgi?action=display&board=shimmer&thread=2098&page=1#ixzz1vEzvgwnJ
---