RHIA O'REILLY ADDED TO SHIMMER 53 AT WRESTLECON!


SHIMMER - WOMEN ATHLETES is pleased to announce the addition of
RHIA O'REILLY
to the SHIMMER 53 event as part of WrestleCon on Saturday, April 6th, 2013 (the day before WrestleMania 29) in Secaucus, NJ.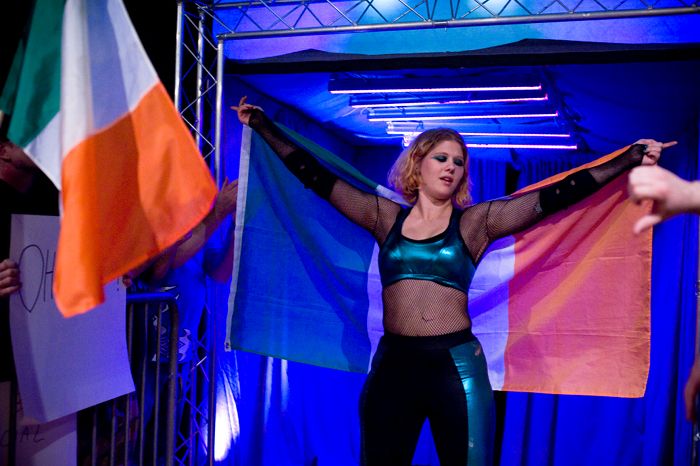 Belfast, Northern Ireland's
Rhia O'Reilly
is a competitor who has truly spread her name across the globe during the past few years. With several training influences, including Lance Storm, O'Reilly has become a key figure on the women's scene throughout Europe. O'Reilly's 2012 in SHIMMER included battles against the likes of Courtney Rush, Taylor Made, Shazza McKenzie, Cheerleader Melissa, Kc Spinelli, and a brief multi-match rivalry with Davina Rose, which caught the attention of her fellow wrestlers and fans alike. Rhia made her allegiance to one of her mentors, SHIMMER Champion Saraya Knight, quite clear during her time competing in Berwyn as well. On the heels of being voted 2012's Best SHIMMER Newcomer by the fans, Rhia O'Reilly is now the latest addition to the growing talent roster for our debut event in the northeast, as SHIMMER strives to present the very best women athletes from around the world at WrestleCon!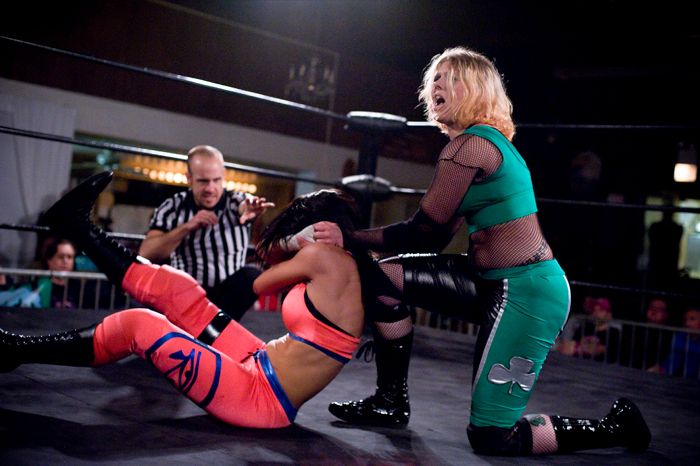 SHIMMER 53 will take place on
Saturday, April 6, 2013
at the
Meadowlands Exposition Center (355 Plaza Drive) in Secaucus, NJ
. Bell time for this afternoon event is 12pm (Noon).

Tickets are now on sale at
http://www.wwnlive.com/wrestlecon
for the SHIMMER 53 event. First and second row seating is already sold out. Third row ringside seating is still available, priced at $40. General admission seating is also available, priced at $25. The event is suitable for all ages.

SHIMMER 53 will be one of several live pro wrestling events that weekend at the Meadowlands Exposition Center as part of WrestleCon. After the SHIMMER event on April 6th, there will also be full events promoted by both CHIKARA and Dragon Gate USA at the same location. Visit
http://www.wrestlecon.com/
for more information on all of the festivities that weekend at the Meadowlands Expo Center.

Already signed for SHIMMER 53 on April 6th...


***Steel Cage/SHIMMER Title Match***

(Champion) SARAYA KNIGHT vs. CHEERLEADER MELISSA


***Rematch from SHIMMER 52***

AYAKO HAMADA vs. "The Wrestling Goddess" ATHENA

Plus...

The SHIMMER return of AMAZING KONG

Former SHIMMER Champion MADISON EAGLES

The SHIMMER debut of New Zealand's EVIE

MIA YIM returns from Japan

"Made In Sin" TAYLOR MADE & ALLYSIN KAY

2012's Best SHIMMER Newcomer RHIA O'REILLY

Look for more matches and talent announcements to be made over the course of the next several weeks.

For years now, fans in the northeast have requested that SHIMMER run a live event in their area. For those fans, this is your chance to see SHIMMER live without having to make the trip to Chicago! If you will be in the area the weekend of April 6th, be sure to experience SHIMMER 53 live and in person!

Visit
http://www.wwnlive.com/wrestlecon
to pick up your tickets to SHIMMER 53!

Discuss SHIMMER 53 at WrestleCon in the following thread at The SHIMMER Forum...


http://tinyurl.com/cfclbtv




BERWYN TICKETS NOW ON SALE!
--------------------------------------------------

SHIMMER Women Athletes returns to the Berwyn Eagles Club (6309 26th Street) in Berwyn, IL on
Saturday & Sunday, April 13th & 14th, 2013
. Volumes 54-57 of the SHIMMER series will be filmed during the course of that weekend.

Tickets for the April 13th & 14th events are now on sale. Front row reserved seating for Saturday, April 13th is already SOLD OUT.
One front row seat remains available for Sunday, April 14th
. It's seat #21, and is priced at $80. Please E-mail shimmernews@yahoo.com right away if you are interested in it.

General admission tickets are priced at $30 per full day of taping, and can be purchased using the PayPal buttons at the link below.


http://shimmerwrestling.blogspot.com/p/tickets.html


If you need to purchase tickets using a money order, please E-mail shimmernews@yahoo.com for mail order instructions.

Discuss the SHIMMER 54-57 tapings in the following thread at The SHIMMER Forum...


http://tinyurl.com/cyvbtb4



INTRODUCING: EVIE
--------------------------------------------------

We've opened a thread at The SHIMMER Forum with some helpful links and videos to help familiarize everyone with New Zealand's top prospect Evie, who will make her SHIMMER debut at WrestleCon.

Visit the link below to learn more about Evie!


http://tinyurl.com/arcvqqf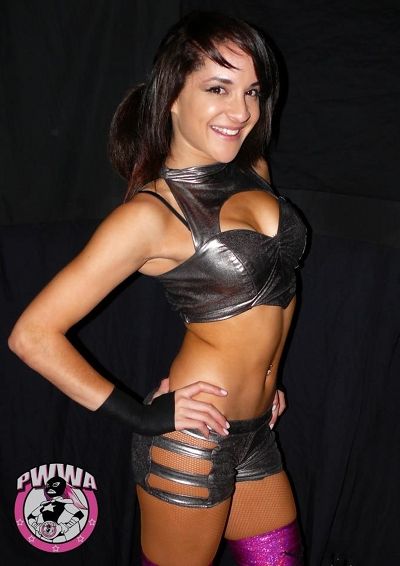 SHIMMER DVD RELEASES
--------------------------------------------------

Here's a look at the newest releases in the SHIMMER series...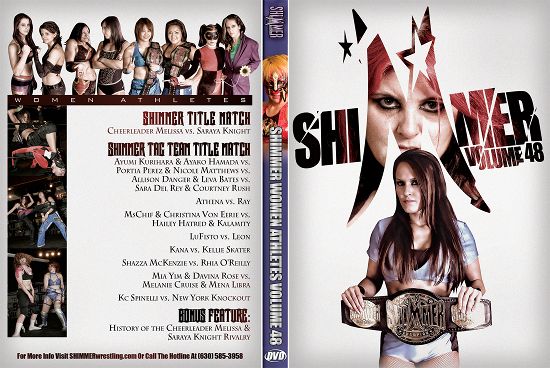 SHIMMER- WOMEN ATHLETES Vol. 48 (DVD)


Description:
1. Kc Spinelli vs. New York Knockout
2. Mia Yim & Davina Rose vs. Melanie Cruise & Mena Libra
3. Shazza McKenzie vs. Rhia O'Reilly
4. Kana vs. Kellie Skater
5. LuFisto vs. Leon
6. MsChif & Christina Von Eerie vs. Hailey Hatred & Kalamity
7. Athena vs. Ray
8. SHIMMER Tag Team Title Match: Ayumi Kurihara & Ayako Hamada vs. Portia Perez & Nicole Matthews vs. Allison Danger & Leva Bates vs. Sara Del Rey & Courtney Rush
9. SHIMMER Title Match: Cheerleader Melissa vs. Saraya Knight

Bonus Feature: History of the Cheerleader Melissa & Saraya Knight Rivalry

Running Time: 2 hours, 42 minutes


Price: $15.00


Order at
http://www.shimmerwrestling.com/
SHIMMER- WOMEN ATHLETES Vol. 47 (DVD)


Description:
1. Taylor Made vs. Rhia O'Reilly
2. Veda Scott vs. Kellie Skater
3. Kalamity vs. Kc Spinelli
4. LuFisto & Kana vs. MsChif & Christina Von Eerie
5. Athena vs. Sassy Stephie
6. Mia Yim & Davina Rose vs. Portia Perez & Nicole Matthews
7. Saraya Knight vs. Shazza McKenzie
8. Allison Danger & Leva Bates vs. Sara Del Rey & Courtney Rush
9. Hailey Hatred vs. Mercedes Martinez
10. SHIMMER Tag Team Title Match: Ayumi Kurihara & Ayako Hamada vs. Ray & Leon
11. SHIMMER Title Match: Cheerleader Melissa vs. Jessie McKay

Running Time: 2 hours, 57 minutes


Price: $15.00


Order at
http://www.shimmerwrestling.com/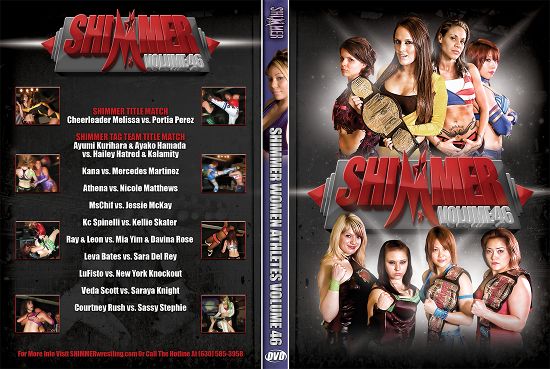 SHIMMER- WOMEN ATHLETES Vol. 46 (DVD)


Description:
1. Courtney Rush vs. Sassy Stephie
2. Veda Scott vs. Saraya Knight
3. LuFisto vs. New York Knockout
4. Leva Bates vs. Sara Del Rey
5. Ray & Leon vs. Mia Yim & Davina Rose
6. Kc Spinelli vs. Kellie Skater
7. MsChif vs. Jessie McKay
8. Athena vs. Nicole Matthews
9. Kana vs. Mercedes Martinez
10. SHIMMER Tag Team Title Match: Ayumi Kurihara & Ayako Hamada vs. Hailey Hatred & Kalamity
11. SHIMMER Title Match: Cheerleader Melissa vs. Portia Perez

Running Time: 3 hours, 2 minutes


Price: $15.00


Order at
http://www.shimmerwrestling.com/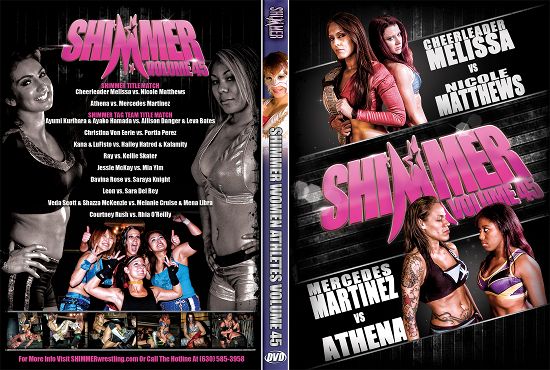 SHIMMER- WOMEN ATHLETES Vol. 45 (DVD)


Description:
1. Courtney Rush vs. Rhia O'Reilly
2. Veda Scott & Shazza McKenzie vs. Melanie Cruise & Mena Libra
3. Leon vs. Sara Del Rey
4. Davina Rose vs. Saraya Knight
5. Jessie McKay vs. Mia Yim
6. Ray vs. Kellie Skater
7. Kana & LuFisto vs. Hailey Hatred & Kalamity
8. Christina Von Eerie vs. Portia Perez
9. SHIMMER Tag Team Title Match: Ayumi Kurihara & Ayako Hamada vs. Allison Danger & Leva Bates
10. Athena vs. Mercedes Martinez
11. SHIMMER Title Match: Cheerleader Melissa vs. Nicole Matthews

Running Time: 3 hours, 11 minutes


Price: $15.00


Order at
http://www.shimmerwrestling.com/
SHIMMER- WOMEN ATHLETES Vol. 44 (DVD)


Description:
1. Davina Rose vs. Kellie Skater
2. Veda Scott vs. Taylor Made
3. Kalamity vs. Tomoka Nakagawa
4. Ashley Lane & Mia Yim vs. Nevaeh & Sassy Stephie
5. Serena Deeb vs. Yumi Ohka
6. MsChif & Christina Von Eerie & Allison Danger & Leva Bates vs. Melanie Cruise & Mena Libra & Bonesaw & She Nay Nay
7. Jessie McKay vs. Hiroyo Matsumoto
8. Courtney Rush vs. Sara Del Rey
9. Athena vs. Mercedes Martinez
10. LuFisto vs. Kana
11. No Disqualification: Britani Knight vs. Saraya Knight
12. SHIMMER Tag Team Title Match: Ayumi Kurihara & Ayako Hamada vs. Portia Perez & Nicole Matthews
13. SHIMMER Title Match: Madison Eagles vs. Cheerleader Melissa

Running Time: 3 hours, 27 minutes


Price: $15.00


Order at
http://www.shimmerwrestling.com/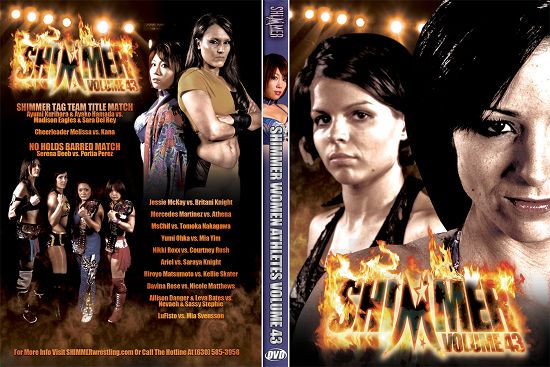 SHIMMER- WOMEN ATHLETES Vol. 43 (DVD)


Description:
1. LuFisto vs. Mia Svensson
2. Allison Danger & Leva Bates vs. Nevaeh & Sassy Stephie
3. Davina Rose vs. Nicole Matthews
4. Hiroyo Matsumoto vs. Kellie Skater
5. Ariel vs. Saraya Knight
6. Nikki Roxx vs. Courtney Rush
7. Yumi Ohka vs. Mia Yim
8. MsChif vs. Tomoka Nakagawa
9. Mercedes Martinez vs. Athena
10. Jessie McKay vs. Britani Knight
11. No Holds Barred Match: Serena Deeb vs. Portia Perez
12. Cheerleader Melissa vs. Kana
13. SHIMMER Tag Team Title Match: Ayumi Kurihara & Ayako Hamada vs. Madison Eagles & Sara Del Rey

Running Time: 3 hours, 16 minutes


Price: $15.00


Order at
http://www.shimmerwrestling.com/
SHIMMER- WOMEN ATHLETES Vol. 42 (DVD)


Description:
1. Mercedes Martinez vs. Leva Bates
2. Hailey Hatred & Kalamity vs. Melanie Cruise & Mena Libra
3. Four Corner Surivial: MsChif vs. Kellie Skater vs. LuFisto vs. Tomoka Nakagawa
4. Courtney Rush vs. Yumi Ohka
5. Portia Perez vs. Davina Rose
6. Nikki Roxx & Ariel vs. Nevaeh & Sassy Stephie
7. Cheerleader Melissa vs. Christina Von Eerie
8. Triple Threat Match: Jessie McKay vs. Athena vs. Mia Yim
9. Serena Deeb vs. Nicole Matthews
10. SHIMMER Tag Team Title Match: Ayumi Kurihara & Ayako Hamada vs. Saraya Knight & Britani Knight
11. Kana vs. Sara Del Rey
12. SHIMMER Title Match: Madison Eagles vs. Hiroyo Matsumoto

Running Time: 3 hours, 7 minutes


Price: $15.00


Order at
http://www.shimmerwrestling.com/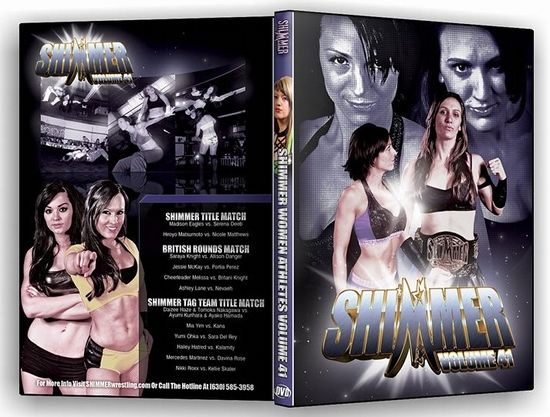 SHIMMER- WOMEN ATHLETES Vol. 41 (DVD)


Description:
1. Nikki Roxx vs. Kellie Skater
2. Mercedes Martinez vs. Davina Rose
3. Hailey Hatred vs. Kalamity
4. Yumi Ohka vs. Sara Del Rey
5. Mia Yim vs. Kana
6. SHIMMER Tag Team Title Match: Daizee Haze & Tomoka Nakagawa vs. Ayumi Kurihara & Ayako Hamada
7. Ashley Lane vs. Nevaeh
8. Cheerleader Melissa vs. Britani Knight
9. Jessie McKay vs. Portia Perez
10. British Rounds Match: Saraya Knight vs. Allison Danger
11. Hiroyo Matsumoto vs. Nicole Matthews
12. SHIMMER Title Match: Madison Eagles vs. Serena Deeb

Running Time: 3 hours, 20 minutes


Price: $15.00


Order at
http://www.shimmerwrestling.com/


Video Preview of SHIMMER 41 -
http://www.youtube.com/watch?v=FDCoEUMyVo8



If you would like to place a mail order for SHIMMER DVDs, E-mail shimmernews@yahoo.com for mail order instructions.


-----------------------------------
Call the SHIMMER hotline
630-585-3958
-----------------------------------
Follow SHIMMER on Twitter

http://www.twitter.com/shimmerwomen

-----------------------------------
Download SHIMMER matches on demand

http://www.clickwrestle.com/

-----------------------------------
Visit the SHIMMER web site

http://www.shimmerwrestling.com/

-----------------------------------