BATTLING BOMBSHELLS TO DEBUT IN HOLLYWOOD, FL
By
Mike Johnson
on 7/2/2013 5:50 PM
LADIES PRO WRESTLING RETURNS TO SOUTH FLORIDA!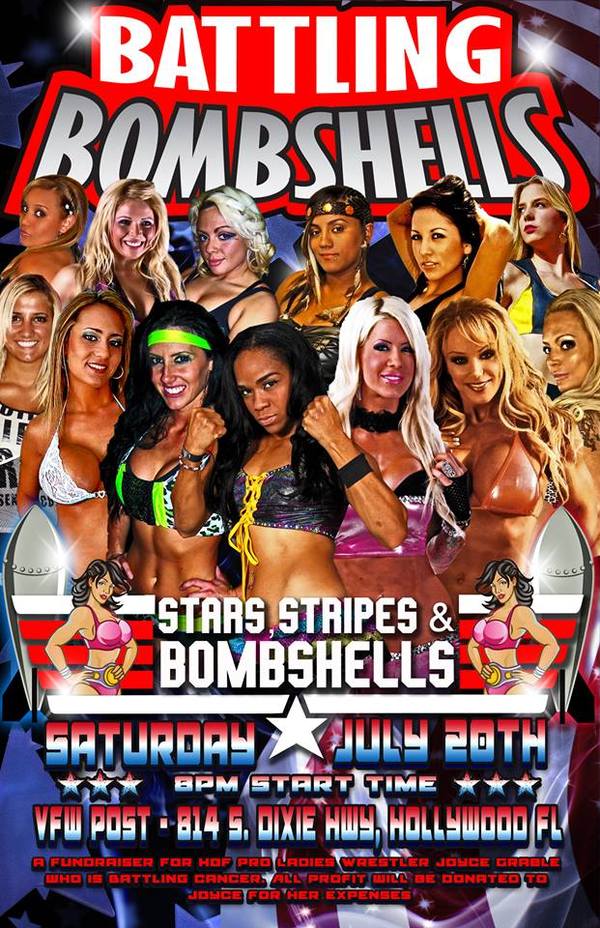 Scheduled to appear on this great card are:
La Rosa Negra (Current Battling Bombshells Champion)
Angelina Love (Former TNA Knockout Champion)
Leilani Kai (Former WWE Ladies Champion & Ladies Tag Team Champion)
Melissa Coates (Former WWE Developmental Star & Bodybuilder)

Santana Garrett

Amazona

managed by

Adam Barisano

La Morena

managed by

Fabulous Frank

Solo Darling

Chelsea Diamond

Renee Michelle

Britney Savage

Silvie Silver

Luscious Latasha

Jewells Malone

Calypso

Mercedes Justine

Dynamite DiDi

Trina Mason

Trina Michaels

and More!

Tickets for this Great Event are only $15 for Front Row, $12 for General Admission and $8 for Children 12 and under.
Got a Question? Call the
Battling Bombshells Hotline at 954-828-2162.

About the Event

The VFW Post 2500 in Hollywood is
a small but intimate venue.
The VFW Post 2500 is located at 814 South Dixie Highway in Hollywood. Bell time for this event is

8 p.m.

sharp with doors opening at

7 p.m.
All profits from this event will go to benefit former ladies pro wrestler and Hall of Famer Joyce Grable in her battle with cancer.

This event is sponsored in part by American Top Team, The #1 Source for Mixed martial Arts, Brazilian Jiu Jitsu, Self-Defense, Fitness and Martial Arts in the State of Florida.
Battling Bombshells is dedicated to bringing you the very finest in ladies pro wrestling action suitable for the entire family. Be sure to check us out online at
Facebook/BattlingBombshells
!
See You at the Matches!
---