SHIMMER WOMEN'S WRESTLING NEWS AND NOTES
By
Mike Johnson
on 4/1/2014 6:31 AM
SHIMMER - WOMEN ATHLETES News for April 1, 2014

Courtesy of the SHIMMER Yahoo Group
groups.yahoo.com/group/shimmerwrestling

Follow SHIMMER on Twitter
www.twitter.com/shimmerwomen

Like SHIMMER on Facebook
www.facebook.com/shimmerwomen

Headlines:
- SHIMMER 62 live on iPPV this Sat. from New Orleans!
- Ray & Leon to return at SHIMMER 63-66 in Berwyn!
- SHIMMER 57-59 DVDs now in stock!


SHIMMER 62 THIS SAT. ON iPPV, LIVE FROM NEW ORLEANS!

SHIMMER - WOMEN ATHLETES presents "SHIMMER 62" this Saturday afternoon, April 5, 2014 at McAlister Auditorium (6823 St. Charles Avenue) on the campus of Tulane University in New Orleans, LA. Bell time for SHIMMER 62 is 3pm. Tickets for SHIMMER 62 are being sold through the World Wrestling Network, at the link below. They will also be available at the door on the day of the event.

Tickets: www.wwnlive.com/NOLA/TIX/tix-shimmer.htm

First and third row ringside seating (on the stage where the ring will be positioned) is already SOLD OUT. Some second row stage seating is still available, if you act fast! Cost for second row stage seats for SHIMMER 62 is $75. Also still available is floor seating in the auditorium. VIP floor seats (rows 1-10) are available at a cost of $35. General admission floor seats (rows 11 and back) are available at a cost of $25.

The iPPV broadcast of the SHIMMER 62 event can now be be pre-ordered, with two pricing options. It's $9.99 for the live stream only, or $14.99 for the live stream plus unlimited VOD access to the event for future viewing. Additionally, the SHIMMER 62 bouts will be available at www.clickwrestle.com after the show for MP4 download.

Pre-order the iPPV at: wwnlive.com/event-shimmer-04-05-14.html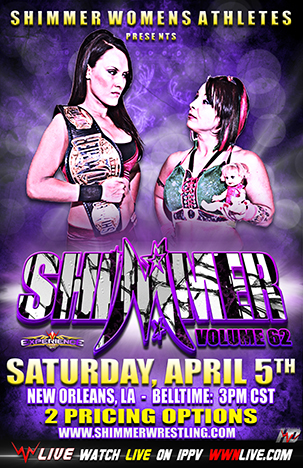 CHEERLEADER MELISSA VS. LUFISTO THIS SATURDAY!

The main event for SHIMMER 62 in New Orleans has been signed! SHIMMER Champion CHEERLEADER MELISSA will put the title on the line against "Super Hardcore Anime" LUFISTO in a Two out of Three Falls Match, with a 90 minute time limit!

Melissa and LuFisto first battled against one another back at SHIMMER 20 in 2008, in a match that earned SHIMMER Match of the Year honors based on fan voting that year.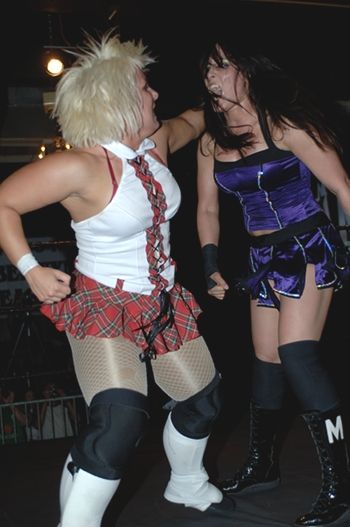 Forty shows later, at SHIMMER 60 this past October, the two faced off once again, but this time Melissa was SHIMMER Champion, and the title was on the line. During the events leading up to the SHIMMER 60 match, LuFisto and Melissa had to be separated by officials following altercations prompted by Melissa continuing to beat down her challengers post-match, after successfully retaining her SHIMMER Championship. LuFisto came to the aid of challengers LEVA BATES and HIROYO MATSUMOTO, as well as retired SHIMMER competitor ALLISON DANGER, saving them from further attack by Melissa. Their SHIMMER 60 battle saw Melissa retain the title, but in the process, LuFisto bloodied the SHIMMER Champion to the extent that Melissa had to be rushed to the hospital following the match, requiring ten stitches to close a laceration above her eye. The injury forced Melissa onto the sidelines for SHIMMER 61, ending her impressive run of competing on every SHIMMER event since the promotion opened its doors in 2005.





The SHIMMER 61 main event saw "The Latina Sensation" MERCEDES MARTINEZ continue her own personal rivalry against LuFisto, which has raged throughout the women's wrestling scene for the past several years, in a wild No Disqualification/Falls Count Anywhere Match, with instructions from Melissa to take LuFisto out of commission in the process. SHIMMER 61 concluded with a bandaged up Melissa laying out LuFisto with the SHIMMER Championship belt, sending a message that she is out for revenge for LuFisto putting her in the hospital.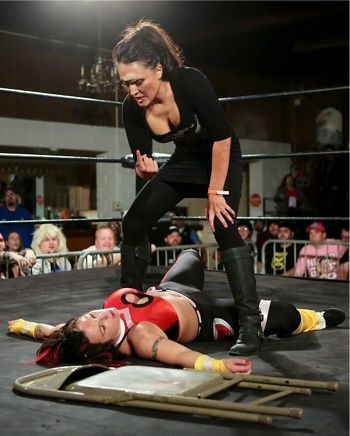 With Melissa eager to get her hands on LuFisto once again for some payback, and LuFisto looking for another opportunity at the SHIMMER Championship, SHIMMER officials have thus signed a rematch between Cheerleader Melissa and LuFisto for SHIMMER 62 in New Orleans. The match has the added twist that one of the competitors must defeat their opponent not once, but twice in the same match in order to be declared the victor. Don't miss CHEERLEADER MELISSA vs. LUFISTO, in a Two out of Three Falls Match for the SHIMMER Championship on April 5th in New Orleans!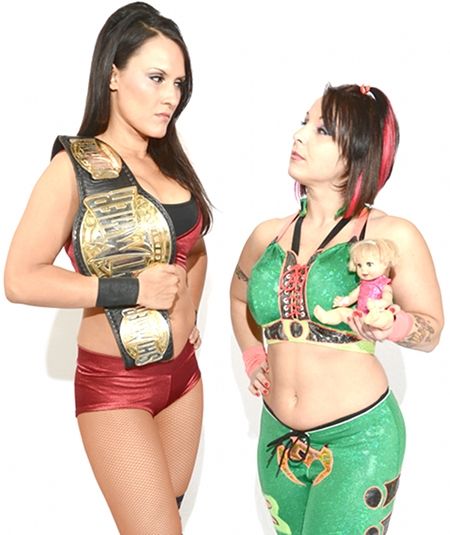 RAY & LEON RETURN TO SHIMMER IN BERWYN!

SHIMMER returns to the Berwyn Eagles Club (6309 26th Street) in Berwyn, IL for SHIMMER 63-66. Bell time on Saturday, April 12th is 2pm. Bell time on Sunday, April 13th is 1pm.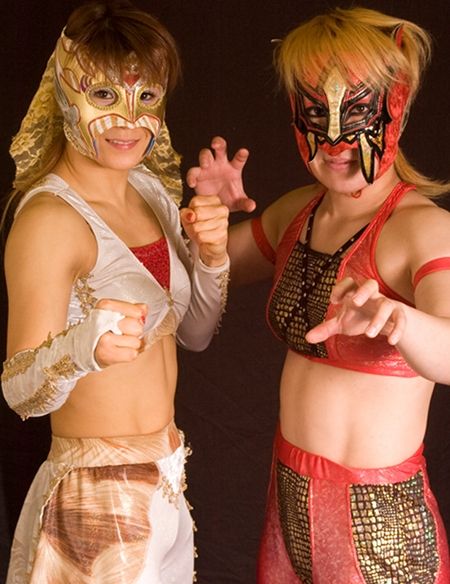 The Berwyn events will feature the long awaited return of the masked duo RAY & LEON from Japan! We've posted a free match from their 2012 visit on YouTube at the link below. Post it on your favorite wrestling message boards to help spread the word!

Video: www.youtube.com/watch?v=iFyq4Nr1U-M

Visit www.shimmerwrestling.com for tickets to the SHIMMER 63-66 events. Still available are two front row reserved seats for Sunday's taping ($80 each), second row reserved seating for both days ($40 per day), and general admission seating for both days ($20 per day). If interested in either or both of the available front row tickets to Sunday's taping, E-mail shimmernews@yahoo.com to let us know.

Make your plans to join us live in Berwyn on April 12th & 13th!


SHIMMER ON DVD!

Now available for worldwide shipping are the SHIMMER DVD releases up through Volume 59. We have several multi-DVD combination packs in the DVD section of www.shimmerwrestling.com to help save on shipping. Here's a look at the newest DVD releases...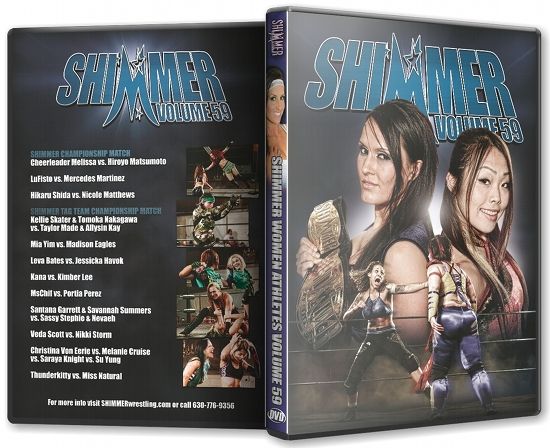 SHIMMER- WOMEN ATHLETES Vol. 59 (DVD)

Description:
1. Thunderkitty vs. Miss Natural
2. Christina Von Eerie vs. Melanie Cruise vs. Saraya Knight vs. Su Yung
3. Veda Scott vs. Nikki Storm
4. Santana Garrett & Savannah Summers vs. Sassy Stephie & Nevaeh
5. MsChif vs. Portia Perez
6. Kana vs. Kimber Lee
7. Leva Bates vs. Jessicka Havok
8. Mia Yim vs. Madison Eagles
9. SHIMMER Tag Team Championship Match: Kellie Skater & Tomoka Nakagawa vs. Taylor Made & Allysin Kay
10. Hikaru Shida vs. Nicole Matthews
11. LuFisto vs. Mercedes Martinez
12. SHIMMER Championship Match: Cheerleader Melissa vs. Hiroyo Matsumoto

Price: $15.00

Order at shimmerwrestling.blogspot.com/p/dvds.html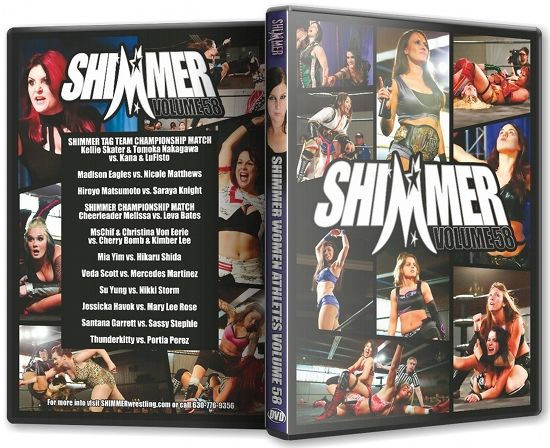 SHIMMER- WOMEN ATHLETES Vol. 58 (DVD)

Description:
1. Thunderkitty vs. Portia Perez
2. Santana Garrett vs. Sassy Stephie
3. Jessicka Havok vs. Mary Lee Rose
4. Su Yung vs. Nikki Storm
5. Veda Scott vs. Mercedes Martinez
6. Mia Yim vs. Hikaru Shida
7. MsChif & Christina Von Eerie vs. Cherry Bomb & Kimber Lee
8. SHIMMER Championship Match: Cheerleader Melissa vs. Leva Bates
9. Hiroyo Matsumoto vs. Saraya Knight
10. Madison Eagles vs. Nicole Matthews
11. SHIMMER Tag Team Championship Match: Kellie Skater & Tomoka Nakagawa vs. Kana & LuFisto

Price: $15.00

Order at shimmerwrestling.blogspot.com/p/dvds.html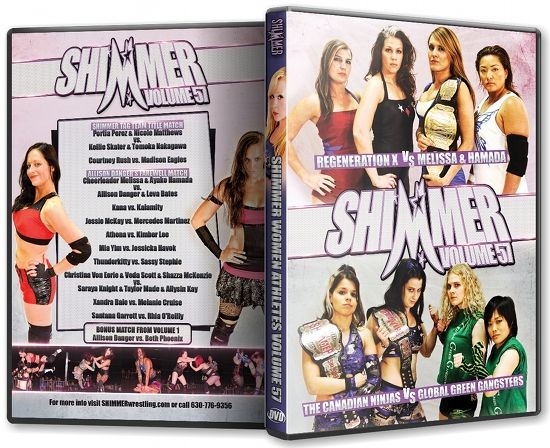 SHIMMER- WOMEN ATHLETES Vol. 57 (DVD)

Description:
1. Santana Garrett vs. Rhia O'Reilly
2. Xandra Bale vs. Melanie Cruise
3. Christina Von Eerie & Veda Scott & Shazza McKenzie vs. Saraya Knight & Taylor Made & Allysin Kay
4. Thunderkitty vs. Sassy Stephie
5. Mia Yim vs. Jessicka Havok
6. Athena vs. Kimber Lee
7. Jessie McKay vs. Mercedes Martinez
8. Kana vs. Kalamity
9. Allison Danger & Leva Bates vs. Cheerleader Melissa & Ayako Hamada
10. Courtney Rush vs. Madison Eagles
11. SHIMMER Tag Team Championship/No Disqualification Match: Portia Perez & Nicole Matthews vs. Kellie Skater & Tomoka Nakagawa
Bonus: Allison Danger vs. Beth Phoenix (from SHIMMER Vol. 1)

Price: $15.00

Order at shimmerwrestling.blogspot.com/p/dvds.html






SHIMMER- WOMEN ATHLETES Vol. 56 (DVD)

Description:
1. Shazza McKenzie vs. Kimber Lee
2. Leva Bates vs. Miss Natural
3. Leah Von Dutch vs. Rhia O'Reilly
4. Kellie Skater vs. Nicole Matthews
5. Jessie McKay vs. Saraya Knight
6. Mia Yim vs. Evie
7. MsChif & Christina Von Eerie vs. Taylor Made & Allysin Kay
8. Tomoka Nakagawa vs. Portia Perez
9. Kana vs. Mercedes Martinez vs. Ayako Hamada vs. Yuu Yamagata
10. Athena vs. Madison Eagles
11. Serena Deeb vs. Jessicka Havok
12. SHIMMER Title Match: Cheerleader Melissa vs. Kalamity

Price: $15.00

Order at shimmerwrestling.blogspot.com/p/dvds.html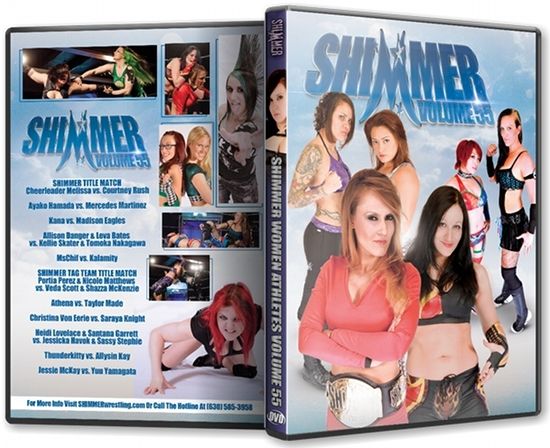 SHIMMER- WOMEN ATHLETES Vol. 55 (DVD)

Description:
1. Jessie McKay vs. Yuu Yamagata
2. Thunderkitty vs. Allysin Kay
3. Heidi Lovelace & Santana Garrett vs. Jessicka Havok & Sassy Stephie
4. Christina Von Eerie vs. Saraya Knight
5. Athena vs. Taylor Made
6. SHIMMER Tag Team Title Match: Portia Perez & Nicole Matthews vs. Veda Scott & Shazza McKenzie
7. MsChif vs. Kalamity
8. Allison Danger & Leva Bates vs. Kellie Skater & Tomoka Nakagawa
9. Kana vs. Madison Eagles
10. Ayako Hamada vs. Mercedes Martinez
11. SHIMMER Title Match: Cheerleader Melissa vs. Courtney Rush

Price: $15.00

Order at shimmerwrestling.blogspot.com/p/dvds.html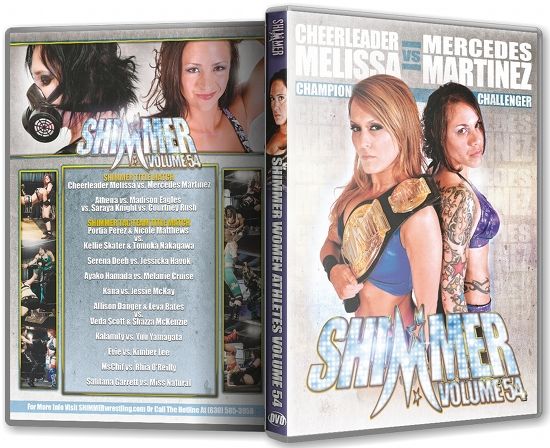 SHIMMER- WOMEN ATHLETES Vol. 54 (DVD)

Description:
1. Santana Garrett vs. Miss Natural
2. MsChif vs. Rhia O'Reilly
3. Evie vs. Kimber Lee
4. Kalamity vs. Yuu Yamagata
5. Allison Danger & Leva Bates vs. Veda Scott & Shazza McKenzie
6. Kana vs. Jessie McKay
7. Ayako Hamada vs. Melanie Cruise
8. Serena Deeb vs. Jessicka Havok
9. SHIMMER Tag Team Title Match: Portia Perez & Nicole Matthews vs. Kellie Skater & Tomoka Nakagawa
10. Athena vs. Madison Eagles vs. Saraya Knight vs. Courtney Rush
11. SHIMMER Title Match: Cheerleader Melissa vs. Mercedes Martinez

Price: $15.00

Order at shimmerwrestling.blogspot.com/p/dvds.html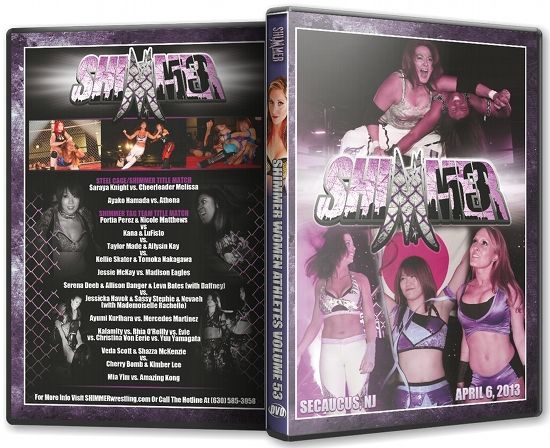 SHIMMER- WOMEN ATHLETES Vol. 53 (DVD)

Description:
1. Mia Yim vs. Amazing Kong
2. Veda Scott & Shazza McKenzie vs. Cherry Bomb & Kimber Lee
3. Kalamity vs. Rhia O'Reilly vs. Evie vs. Christina Von Eerie vs. Yuu Yamagata
4. Ayumi Kurihara vs. Mercedes Martinez
5. Serena Deeb & Allison Danger & Leva Bates with Daffney vs. Jessicka Havok & Sassy Stephie & Nevaeh with Mademoiselle Rachelle
6. Jessie McKay vs. Madison Eagles
7. SHIMMER Tag Team Title Match: Portia Perez & Nicole Matthews vs. Kana & LuFisto vs. Taylor Made & Allysin Kay vs. Kellie Skater & Tomoka Nakagawa
8. Athena vs. Ayako Hamada
9. Steel Cage/SHIMMER Title Match: Saraya Knight vs. Cheerleader Melissa

Running Time: 2 hours, 55 minutes

SHIMMER 53 DVD Trailer - www.youtube.com/watch?v=ASVTohMj0F8

Price: $15.00

Order at shimmerwrestling.blogspot.com/p/dvds.html


-----------------------------------
SHIMMER Information
630-776-9356
-----------------------------------
Follow SHIMMER on Twitter
www.twitter.com/shimmerwomen
-----------------------------------
Download SHIMMER matches on demand
www.clickwrestle.com/
-----------------------------------
Visit the SHIMMER web site
www.shimmerwrestling.com/
---