SHIMMER WOMEN'S WRESTLING NEWS AND NOTES LEADING INTO THIS WEEKEND'S EVENTS
By
Mike Johnson
on 10/19/2018 3:01 PM
SHIMMER - WOMEN ATHLETES News for Oct. 19, 2018

Follow SHIMMER on Twitter
www.twitter.com/shimmerwomen

Like SHIMMER on Facebook
www.facebook.com/shimmerwomen

Follow SHIMMER on Instagram
www.instagram.com/shimmerwomen




THIS WEEKEND! SHIMMER 105-108 IN BERWYN, IL!

SHIMMER - WOMEN ATHLETES returns to the Berwyn Eagles Club (6309 26th Street) in Berwyn, IL this Saturday & Sunday, October 20th & 21st! SHIMMER 105 & 106 will take place on Saturday, October 20th. Bell time on Saturday is 2PM. SHIMMER 107 & 107 will take place on Sunday, October 21st. Bell time on Sunday is Noon. Tickets can be purchased in advance at www.SHIMMERwrestling.com to guarantee seating to the events. Advance tickets purchased from this point forward will be held at the door.

Over 35 of the top female professional wrestlers from around the world will be in action over the course of the weekend!

Already announced for SHIMMER 105 on Saturday, October 20th…

***Heart of SHIMMER Championship Match***
(Champion) Dust with Rosemary vs. Ashley Lane

***Winner Receives Future Title Shot***
Kay Lee Ray vs. Viper

Rachael Ellering vs. Karen Q

Plus, also appearing on the SHIMMER 105-108 events…

SHIMMER Champion Nicole Savoy
SHIMMER Tag Team Champions Leva Bates & Delilah Doom
Mercedes Martinez
Cheerleader Melissa
LuFisto
Kimber Lee
Shazza McKenzie
Shotzi Blackheart
Jessicka Havok
Tessa Blanchard (10/21 only)
Britt Baker
Samantha Heights
Solo Darling
Veda Scott
Nevaeh
Kiera Hogan
Charli Evans
Jessica Troy
Zoe Lucas
Thunderkitty (10/21 only)
Willow Nightingale
Jinny
Kc Spinelli
Dynamite DiDi
Hyan
Indi Hartwell
Holidead
Ashley Vox
Delmi Exo
Sierra
Allie Kat (10/21 only)

LOW TICKET ADVISORY: As of Friday morning, only ten general admission tickets are left for Saturday, October 20th before we're sold out! Visit www.SHIMMERwrestling.com quickly if you'd like to attend!

In addition to the SHIMMER events this weekend, RISE 10 is taking place TONIGHT (Friday, October 19th), also at the Berwyn Eagles Club. The main event features a 60 minute Iron-Woman Match between Phoenix of RISE Champion Tessa Blanchard and Mercedes Martinez! Bell time for the main show tonight is 8PM. Visit www.rise-wrestling.com for more information on tonight's show.

Join us this weekend at the Eagles Club in Berwyn for three days of live women's pro wrestling!



SHIMMER WOMEN ATHLETES LAUNCHES STREAMSHIMMER.COM!

Since 2005, SHIMMER Women Athletes has presented the very best in women's professional wrestling, for American wrestling fans to witness live, and worldwide for followers of the DVD series. As times change, the methods of video content delivery evolve, and SHIMMER now follows suit.

We are pleased to announce the addition of www.StreamSHIMMER.com to the available options for fans of women's wrestling to watch SHIMMER's archive of footage! At a price of $9.99 per month, www.StreamSHIMMER.com offers full SHIMMER events from years past to be streamed on demand, with additional events added to the library on a regular basis in the future. At launch, www.StreamSHIMMER.com features the first 61 events presented by SHIMMER Women Athletes.

Each two to three hour long SHIMMER event is truly an "All-Star Game of Women's Wrestling," featuring top talent from around the globe.

Follow the early years of such athletes as Beth Phoenix, Rebecca Knox (Becky Lynch), Nattie Neidhart (Natalya), Amazing (Awesome) Kong, Daffney, Britani Knight (Paige), Davina Rose (Bayley), "The World Famous" Kana (Asuka), Jessie McKay (Billie Kay), Athena (Ember Moon), Heidi Lovelace (Ruby Riott), Candice LeRae, Nikki Storm (Nikki Cross), Evie (Dakota Kai), Courtney Rush (Rosemary), Crazy Mary Dobson (Sarah Logan), Allie (Cherry Bomb), and more!

The elite women wrestlers in independent wrestling over the years have been featured on events in the SHIMMER series, including competitors like Sara Del Rey, MsChif, Daizee Haze, Cheerleader Melissa, Madison Eagles, Mercedes Martinez, Mia Yim, Serena Deeb, Nikki Roxx, "The Canadian Ninjas" Nicole Matthews & Portia Perez, "The Minnesota Home Wrecking Crew" Lacey & Rain, Allison Danger, Leva Bates, LuFisto, Sarah Stock, Saraya Knight, Kellie Skater, Shazza McKenzie, Kay Lee Ray, Kimber Lee, Nicole Savoy, Jessicka Havok, Vanessa Kraven, Lexie Fyfe, and dozens more!

Through a talent agreement with Joshi 4 Hope in Japan, many of the top stars from that part of the world have also graced the SHIMMER ring, such as Aja Kong, Mayumi Ozaki, Ayako Hamada, Hiroyo Matsumoto, Ayumi Kurihara, Tomoka Nakagawa, Hikaru Shida, Misaki Ohata, Yumi Ohka, and many others!



The www.StreamSHIMMER.com video content can currently be viewed via the player on the web site, via the Stream SHIMMER Roku App, or via Amazon FireTV.

There are two ways Roku users can subscribe to the www.StreamSHIMMER.com content:

- Via Lightcast's Central Subscriber System called "Lightcast EasyPay" or
- Via Roku Billing System - Note: If a user signs up via Roku Billing system, they can only access our content on Roku.

Visit www.StreamSHIMMER.com to sign up and begin viewing the SHIMMER video archive!

In addition to www.StreamSHIMMER.com for streaming the SHIMMER video content, physical media will remain a priority going forward as well, for fans who have amassed a collection of SHIMMER DVDs over the past 13 years. Additionally, www.ClickWrestle.com will remain the source for downloading individual SHIMMER matches on demand.

Everyone at SHIMMER is excited to offer wrestling fans this new, simple method of viewing the promotion's storied history, featuring over 100 different women athletes from around the world, through www.StreamSHIMMER.com!



SHIMMER DVD RELEASES

DVD releases through Volume 81 in the SHIMMER series are currently in stock and available for immediate worldwide shipping! Visit www.SHIMMERwrestling.com to purchase SHIMMER DVD releases online. If you would like to purchase SHIMMER DVDs via money order, E-mail shimmernews@yahoo.com for mail order instructions.





SHIMMER - WOMEN ATHLETES Vol. 81 (DVD)

Description:
1. Nixon Newell vs. Veda Scott
2. Shayna Baszler vs. Rhia O'Reilly
3. Kellie Skater vs. Vanessa Kraven vs. Shazza McKenzie vs. LuFisto
4. Jessicka Havok vs. Viper
5. Mia Yim & Kay Lee Ray vs. Yumi Ohka & Melanie Cruise
6. Arisa Nakajima vs. Nicole Matthews
7. Kc Spinelli vs. Ryo Mizunami
8. Heart of SHIMMER Championship: Nicole Savoy vs. Crazy Mary Dobson
9. SHIMMER Tag Team Championship: Kimber Lee & Cherry Bomb vs. Heidi Lovelace & Evie
10. SHIMMER Championship: Madison Eagles vs. Courtney Rush

Price: $15.00

Order at www.SHIMMERwrestling.com





SHIMMER - WOMEN ATHLETES Vol. 80 (DVD)

Description:
Heart of SHIMMER Championship Tournament!
1. Leva Bates vs. Cheerleader Melissa
2. Candice LeRae vs. Cherry Bomb
3. LuFisto vs. Nicole Savoy
4. Jessicka Havok vs. Kimber Lee
5. Heidi Lovelace vs. Veda Scott
6. Nicole Matthews vs. Crazy Mary Dobson
7. Second Round Tournament Match #1
8. Second Round Tournament Match #2
9. Second Round Tournament Match #3
10. Three-Way Elimination Tournament Final Match
Bonus Feature: Tenth Anniversary Q&A: Part Three

Price: $15.00

Order at www.SHIMMERwrestling.com





SHIMMER - WOMEN ATHLETES Vol. 79 (DVD)

Description:
1. Leva Bates vs. Thunderkitty
2. LuFisto vs. Vanessa Kraven
3. Makoto vs. Marti Belle
4. Jessicka Havok vs. Sammi Baynz
5. Kc Spinelli & Xandra Bale vs. Cheerleader Melissa & Yumi Ohka
6. Kay Lee Ray vs. Liberty
7. Mia Yim vs. Allysin Kay vs. Shazza McKenzie vs. Veda Scott
8. Heidi Lovelace vs. Kellyanne
9. Crazy Mary Dobson vs. Saraya Knight
10. Sonoko Kato vs. Nicole Savoy
11. Hiroyo Matsumoto vs. Rhia O'Reilly
12. Portia Perez's Retirement Match: Madison Eagles & Kellie Skater & Lexie Fyfe & Daizee Haze vs. Portia Perez & Nicole Matthews & Kimber Lee & Lacey

Price: $15.00

Order at www.SHIMMERwrestling.com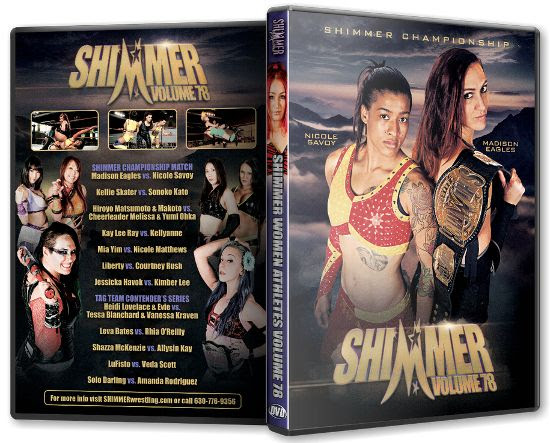 SHIMMER - WOMEN ATHLETES Vol. 78 (DVD)

Description:
1. Solo Darling vs. Amanda Rodriguez
2. LuFisto vs. Veda Scott
3. Shazza McKenzie vs. Allysin Kay
4. Leva Bates vs. Rhia O'Reilly
5. Heidi Lovelace & Evie vs. Tessa Blanchard & Vanessa Kraven
6. Jessicka Havok vs. Kimber Lee
7. Liberty vs. Courtney Rush
8. Mia Yim vs. Nicole Matthews
9. Kay Lee Ray vs. Kellyanne
10. Hiroyo Matsumoto & Makoto vs. Cheerleader Melissa & Yumi Ohka
11. Kellie Skater vs. Sonoko Kato
12. SHIMMER Championship Match: Madison Eagles vs. Nicole Savoy

Price: $15.00

Order at www.SHIMMERwrestling.com





SHIMMER - WOMEN ATHLETES Vol. 77 (DVD)

Description:
1. Kc Spinelli vs. Veda Scott
2. Xandra Bale vs. Saraya Knight
3. Liberty vs. Sammi Baynz
4. Six Woman Scramble: Kellie Skater vs. Candice LeRae vs. Marti Belle vs. Kay Lee Ray vs. Sonoko Kato vs. Allysin Kay
5. Crazy Mary Dobson vs. Courtney Rush
6. Hiroyo Matsumoto vs. Thunderkitty
7. Jessicka Havok vs. Yumi Ohka
8. Heidi Lovelace vs. Kimber Lee
9. Makoto vs. Cheerleader Melissa
10. Mia Yim & Leva Bates vs. Tessa Blanchard & Vanessa Kraven
11. Evie vs. Nicole Savoy
12. SHIMMER Championship Match: Nicole Matthews vs. Madison Eagles

Price: $15.00

Order at www.SHIMMERwrestling.com





SHIMMER - WOMEN ATHLETES Vol. 76 (DVD)

Description:
1. 20 Woman Battle Royal
2. LuFisto vs. Taylor Made
3. Sonoko Kato vs. Kimber Lee
4. Shazza McKenzie vs. Courtney Rush
5. Mia Yim vs. Kellyanne
6. Yumi Ohka vs. Makoto
7. Crazy Mary Dobson vs. Cheerleader Melissa
8. Heidi Lovelace & Evie vs. Saraya Knight & Rhia O'Reilly
9. Hiroyo Matsumoto vs. Nicole Savoy
10. Kellie Skater vs. Kay Lee Ray
11. SHIMMER Championship Match: Nicole Matthews vs. Battle Royal Winner

Price: $15.00

Order at www.SHIMMERwrestling.com





SHIMMER - WOMEN ATHLETES Vol. 75 (DVD)

Description:
1. Shazza McKenzie vs. Marti Belle
2. Crazy Mary Dobson vs. Miss Natural
3. Kay Lee Ray vs. AKINO
4. Jessicka Havok vs. Melanie Cruise
5. Xandra Bale vs. Courtney Rush
6. LuFisto vs. Misaki Ohata
7. Athena vs. Tessa Blanchard
8. Mia Yim vs. Nicole Savoy
9. Candice LeRae vs. Cheerleader Melissa
10. SHIMMER Tag Team Championship Match: Kimber Lee & Cherry Bomb vs. Heidi Lovelace & Evie
11. Madison Eagles vs. Saraya Knight
12. Tomoka Nakagawa's Retirement Match: Kellie Skater & Tomoka Nakagawa vs. Nicole Matthews & Portia Perez

Price: $15.00

Order at www.SHIMMERwrestling.com





SHIMMER - WOMEN ATHLETES Vol. 74 (DVD)

Description:
1. Crazy Mary Dobson vs. Portia Perez
2. Thunderkitty vs. Angelus Layne
3. Mia Yim vs. Kimber Lee vs. Kay Lee Ray vs. Saraya Knight
4. Yumi Ohka vs. Nicole Savoy
5. Shazza McKenzie vs. Melanie Cruise
6. Candice LeRae vs. Cherry Bomb
7. Jessicka Havok vs. Veda Scott
8. Heidi Lovelace & Evie vs. Courtney Rush & Xandra Bale
9. Athena vs. Vanessa Kraven
10. Cheerleader Melissa vs. AKINO
11. SHIMMER Championship Match: Nicole Matthews vs. Madison Eagles
12. Kellie Skater & Tomoka Nakagawa & Hiroyo Matsumoto & Misaki Ohata vs. Aja Kong & Mayumi Ozaki & Dynamite Kansai & Kyoko Kimura

Price: $15.00

Order at www.SHIMMERwrestling.com





SHIMMER - WOMEN ATHLETES Vol. 73 (DVD)

Description:
1. LuFisto vs. Marti Belle
2. Crazy Mary Dobson vs. Melanie Cruise
3. Thunderkitty vs. Cheerleader Melissa
4. Mia Yim vs. Kyoko Kimura
5. Kay Lee Ray vs. Saraya Knight
6. Kellie Skater vs. Evie vs. Nicole Savoy vs. Allysin Kay
7. Athena vs. Tessa Blanchard
8. SHIMMER Tag Team Championship Match: Kimber Lee & Cherry Bomb vs. Courtney Rush & Xandra Bale
9. Heidi Lovelace vs. Misaki Ohata
10. Madison Eagles vs. Portia Perez
11. Tomoka Nakagawa vs. AKINO
12. SHIMMER Championship Match: Nicole Matthews vs. Jessicka Havok

Price: $15.00

Order at www.SHIMMERwrestling.com





SHIMMER - WOMEN ATHLETES Vol. 72 (DVD)

Description:
1. Jessicka Havok vs. Cheerleader Melissa
2. Courtney Rush & Xandra Bale vs. Taylor Made & Allysin Kay
3. Thunderkitty vs. Vanessa Kraven
4. Misaki Ohata vs. Nicole Savoy
5. LuFisto vs. Miss Natural
6. Shazza McKenzie vs. Veda Scott
7. AKINO vs. Portia Perez
8. No Disqualification Match: Evie & Heidi Lovelace vs. Saraya Knight & Mayumi Ozaki
9. Madison Eagles vs. Yumi Ohka
10. Two Out Of Three Falls Match: Athena vs. Mia Yim
11. SHIMMER Tag Team Championship Match: Kellie Skater & Tomoka Nakagawa vs. Kimber Lee & Cherry Bomb
12. SHIMMER Championship Match: Nicole Matthews vs. Kay Lee Ray

Price: $15.00

Order at www.SHIMMERwrestling.com


-----------------------------------
SHIMMER Information
630-776-9356
-----------------------------------
Download SHIMMER matches on demand
www.clickwrestle.com/
-----------------------------------
Visit the SHIMMER web site
www.shimmerwrestling.com/
-----------------------------------
---